Funny Guy, a Tribute to Robin Williams 8"x11"
$

12.00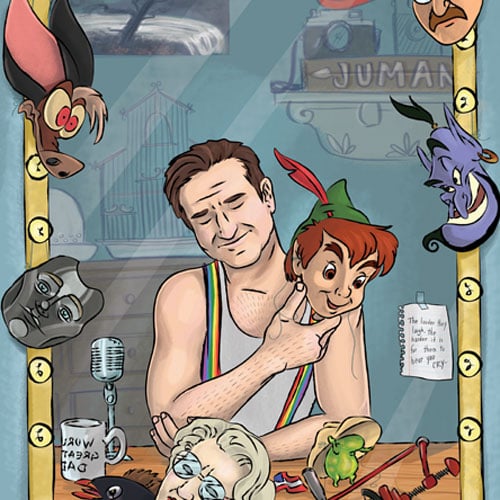 This piece was inspired by all the ways I knew a man that I never met. He was an amazing actor and human being. In his lifetime he helped more then 50 different charities raise money and awareness. He also helped thousands, if only for a little while, forget their troubles and just laugh.
I really enjoyed doing this illustration and reflecting on all the ways he inspired my personality and sense of humor as I was growing up.
IN HIS MEMORY, The first original 100 Prints that were sold helped raise Money for some great charities.
Art Specifications:
sizes
8.5" x 11" Print with white border
13" x 19" Print with white border
27" x 30" Print with white border
(Just click on the drop down menu at the bottom)
Digital Illustration by Josie Devora.
If you have any questions about this art or any others please contact me at
[email protected]
(P.S. can you count all the movies?)
Scroll all the way down to see the cheat sheet and see the whole movie list.
Don't forget to check out our blog at
Roosterpop.Blogspot.com to see a bit more I wrote about Robin Williams and how he effected all our lives.
If you would like a custom size or have any questions please use that
"Contact" tab at the top of the page.
Total movies are as follows in chronological order=
Mork and Mindy
Popeye
Good Morning, Vietnam
Dead Poets Society,etc. (Flubber Mask)
Awakenings (Sleeping Mask)
Hook
FernGully: The Last Rainforest
Aladdin
Toys
Mrs. Doubtfire
Jumanji
The Birdcage
Flubber
What Dreams May Come
Patch Adams
Bicentennial Man
One Hour Photo
Death to Smoochy
Insomnia (Sleeping Maks)
Robots
Man of the Year
Happy Feet(s)
Night at the Museum(s)
World's Greatest Dad
I hope these make you as happy to reminisce on as they did me. And though we where left with a bitter sweet taste in our mouths because of his sudden passing. We can't let one sad day in his life erase the 63 years of joy he brought us.
Share